Nine Out of Ten Race Wins: Meet a new DH star.
Sixteen year old shredder Dom Platt is close to completing his first season with the Atherton Academy and what an awesome season it's been. Dom has clocked up ten races so far (four enduro races, six downhill) and won all but one of them, with two more DH outings and another Enduro before the end of the season he's looking to maintain that winning streak.
The Atherton Academy launched the careers of Martin Maes, Taylor Vernon and Kade Edwards, and we believe that Dom is a worthy successor. 2021 is the first year we've been able to supply Atherton Bikes as part of our extensive development package.

We chat to our newest recruit about a stellar year…

DP: I live in West Sussex where I split my time between my mum and dad's houses. When I'm with my dad we live with my auntie and my grandparents on a show-jumping farm. They breed horses and offer training and livery. Lottie, my auntie is an international showjumper, my dad used to race World Cups with Gee and my grandpa Sven used to race cars; I guess we're a pretty competitive family!

My mum lives nearby and I spend a few days a week with her. She's not into racing, and I know that it scares her, she hates the risk of me getting injured but she's always happy when I win and really supportive.

People say that as a family we are really determined, with a big work ethic. I've never really thought about it before but I guess those traits are in me. I'm dedicated to what I do and I don't ever give up but I think I'm still pretty chilled to be around. I'm not a huge extrovert, I love riding with friends but I'm also happy just training on my own, riding for my own benefit, my own enjoyment. I hope that I'm nice to new people who are starting in the sport and that I can make them feel comfortable.

Where I ride in the Surrey Hills people don't tend to be super serious about their riding, they're just in it for the fun, getting out in the fresh air. There's no big mountains or long descents so you get to be quite resourceful with what is here, it may not be the ultimate downhill training ground but it's home. Riding here inspired me for some of the Enduro events I'm doing now, you have to earn your reward, you know how much you like riding by the amount of work you put in to get your descent.
We dig trails in our local woods too, it's not far from the coast so it's sandy, fresh tracks are loamy and quite rutty, as they get ridden in they get more gnarly but nothing is too steep.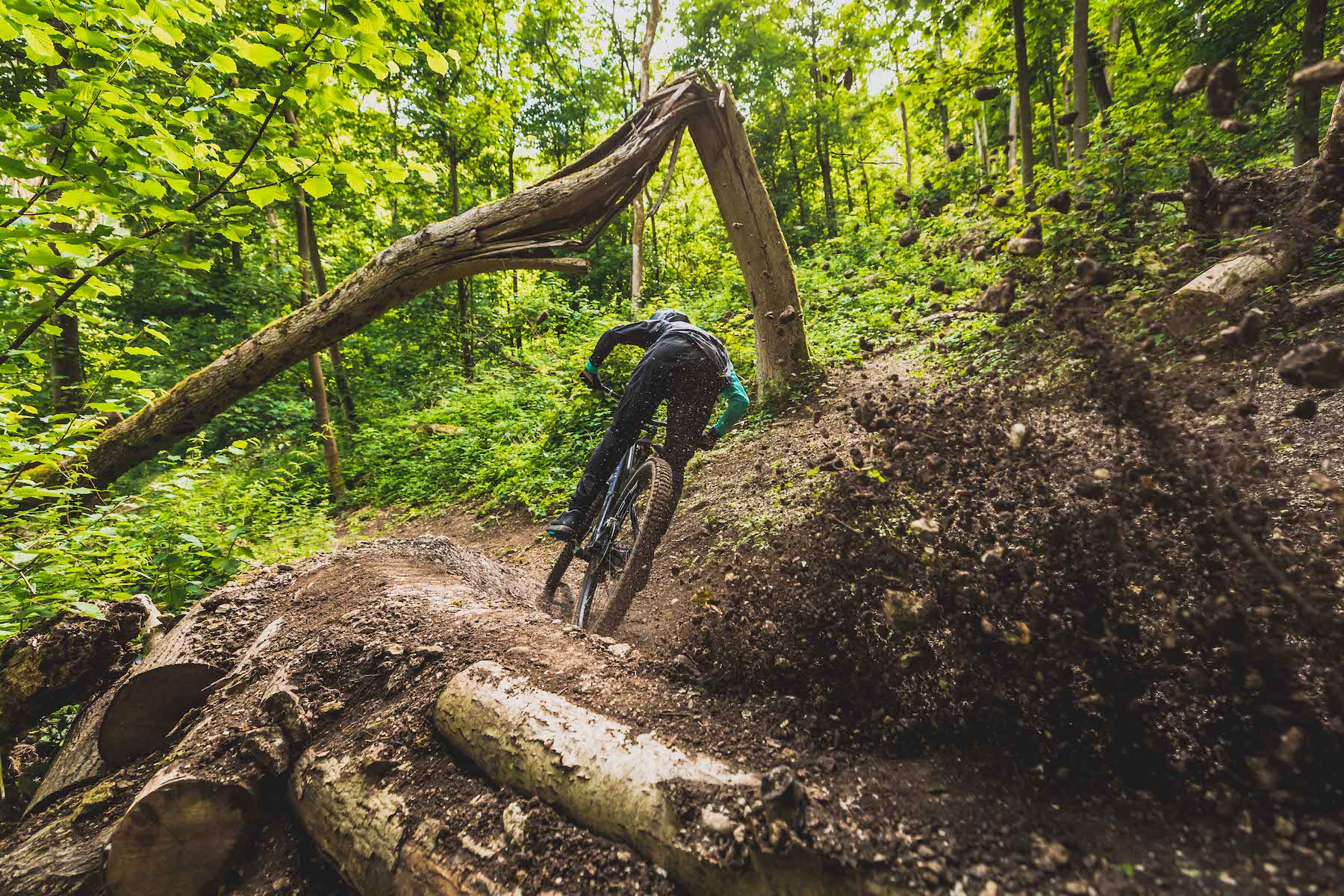 I have different groups that I ride with, my trail riding mates, some fast Downhill riders like Luke Williamson (Atherton Academy 2017, 2018) he's an elite World Cup rider now so it's great to get some track time with him, and some of my dad's mates are super fast too…
Part what I love about riding is to do with being with friends, getting stoked on it together and being free; to go out to the woods and be free a while.
People ask how I manage to train near home because the trails are quite short here, maybe 30 seconds long, but you can make up for the physical side in the gym, what's a bit harder is the mental stamina it takes to be "on" and hyper aware for 3-4 minutes of an Enduro track, that does need extra training so we travel a lot to ride. Dyfi Bike Park is hands down my favourite! I'm really keen to get some more experience on bigger tracks, this summer I managed to swing a last minute trip to Morzine – I stayed with mates for a few days but also got to ride with Charlie Hatton and Ben Lovell (The Continental Atherton Head Technician) for three days, that was mega. Charlie says that our riding styles are pretty similar, neither of us look fast. In fact I know that people who see me in practise are surprised when the timing comes out! Charlie talked about lowering the risk, he doesn't do too many practice runs, he starts chilled then repeats the same track. We did a DH training day at Pleney, learning consistency, learning the lines. The Alpine tracks aren't just longer they're faster and steeper, Ben helped me to tweak my set up to put more pressure in the forks, we changed my weight distribution to be over the back more which felt more balanced on the steeper tracks and took some weight off my arms.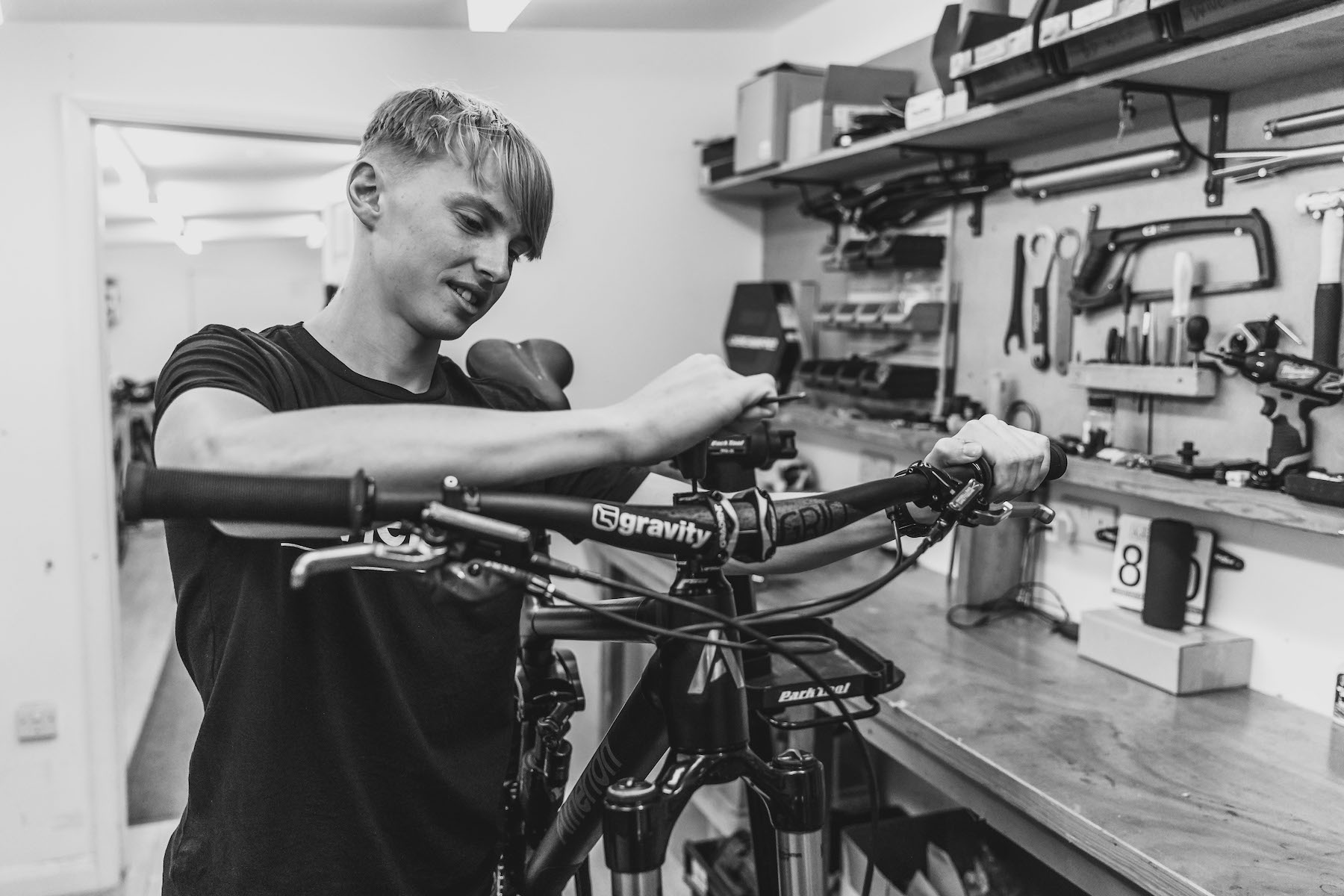 I'm lucky with my training because I've got my dad to ask stuff and to ride with, he's got so much experience to share and he sorted it out for me to start training with Alan Milway ( Continental Atherton team coach) when I was just 13. I love the gym, it's not something I force myself to do, I love all the stuff that comes with riding. I'm starting my Sports Science A -level course in September and that's cool and interesting because it will help me to race. I wasn't that bothered about the rest of school!
I want to be World Champion. If anyone asked me to make a wish that would be it. I know that there will be some hard times to overcome and some huge lessons to learn but I can't wait to tackle the Junior World Cups next year.
It's been such an amazing couple of months. The first weekend in June I collected my new Atherton Bike (the 150) and headed up to Graythwaite, I took first place in the PMBA Enduro under 18s, I was so stoked, my first national level Enduro, category win and top 40 overall.
I've raced both Downhill and Enduro this season; it's hard to specialise when I'm so young and I believe that riding Enduro helps me to learn to read tracks quicker and to adapt, you have to improvise a bit more so it helps faster processing of information, I enjoy it. But Downhill is a different ballgame: the beeps in the start hut, the pressure to get that one run pinned, to make no mistakes …
The Atherton Bike is amazing. I hadn't tried the bike when I signed but it never occurred to me that I should be concerned. I've always looked up to Gee, Rach and Dan and I just knew that they wouldn't ride it or release it if it wasn't great. It still seems crazy to me riding their bike.
They are even more special when you see them in person, the layers of carbon and the Additive Manufacturing makes them super unique, I think they are one of the nicest bikes out there. People have so many questions when they see the details, they're so interested in the manufacturing and I tell them about the titanium lugs, double lap shear joints, the bonding … - even though they like the images on social and websites at least 10 people have said to me that it looks better in the flesh.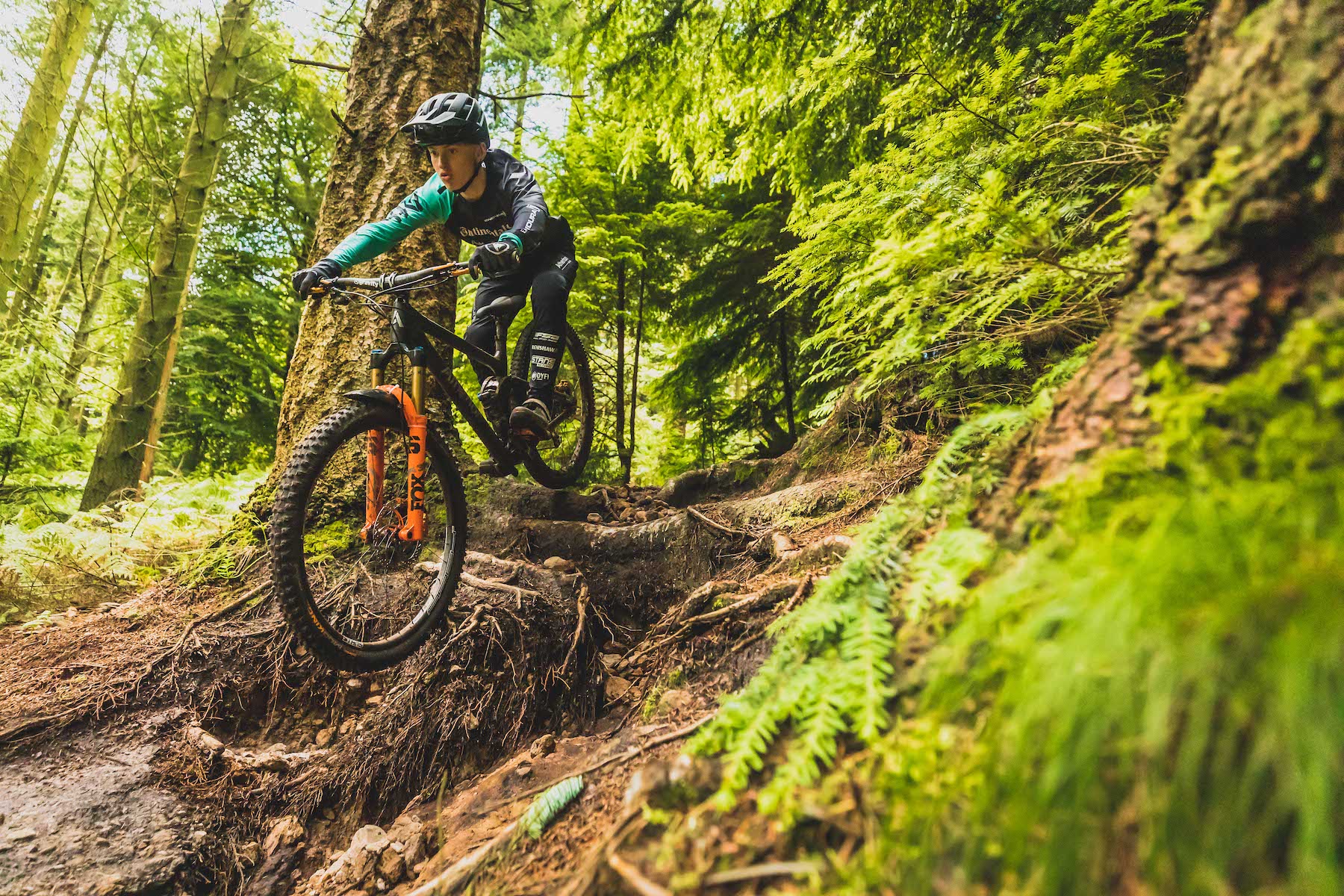 The Additive Manufacturing is such an out there idea that I thought there might be hate but (unlike my old bike) no one has ever mocked it, people can be so mean about set up and bike design etc. At Hamsterley 3 or 4 people said that it's one of the quietest bikes they've heard, it's not at all chattery.
I'm 5 foot 8, maybe a bit more, I'm still growing. My 150 has a 450mm reach, my DH is 455mm, both feel bang on. I'm so comfortable with them. The very first time rode Rachel's bike at Dyfi, I knew. Straight away I felt really chilled and in control. I've never ridden a 29er before but after three turns I was blown away. I know people take ages to get used to new bikes but I was immediately settled. Before I used to race downhill on a Nukeproof Dissent , 27.5 inch wheels, 445 mm reach, it was getting a bit small and sometimes felt pretty sketchy.
The Atherton Bike goes forward a bit more and it feels more forgiving, like I can ride my way and the bike will respond accordingly. It goes where you want it to go. I can't say why but it just feels good, it's definitely confidence inspiring, it generates so much grip, you get the feeling of railing turns.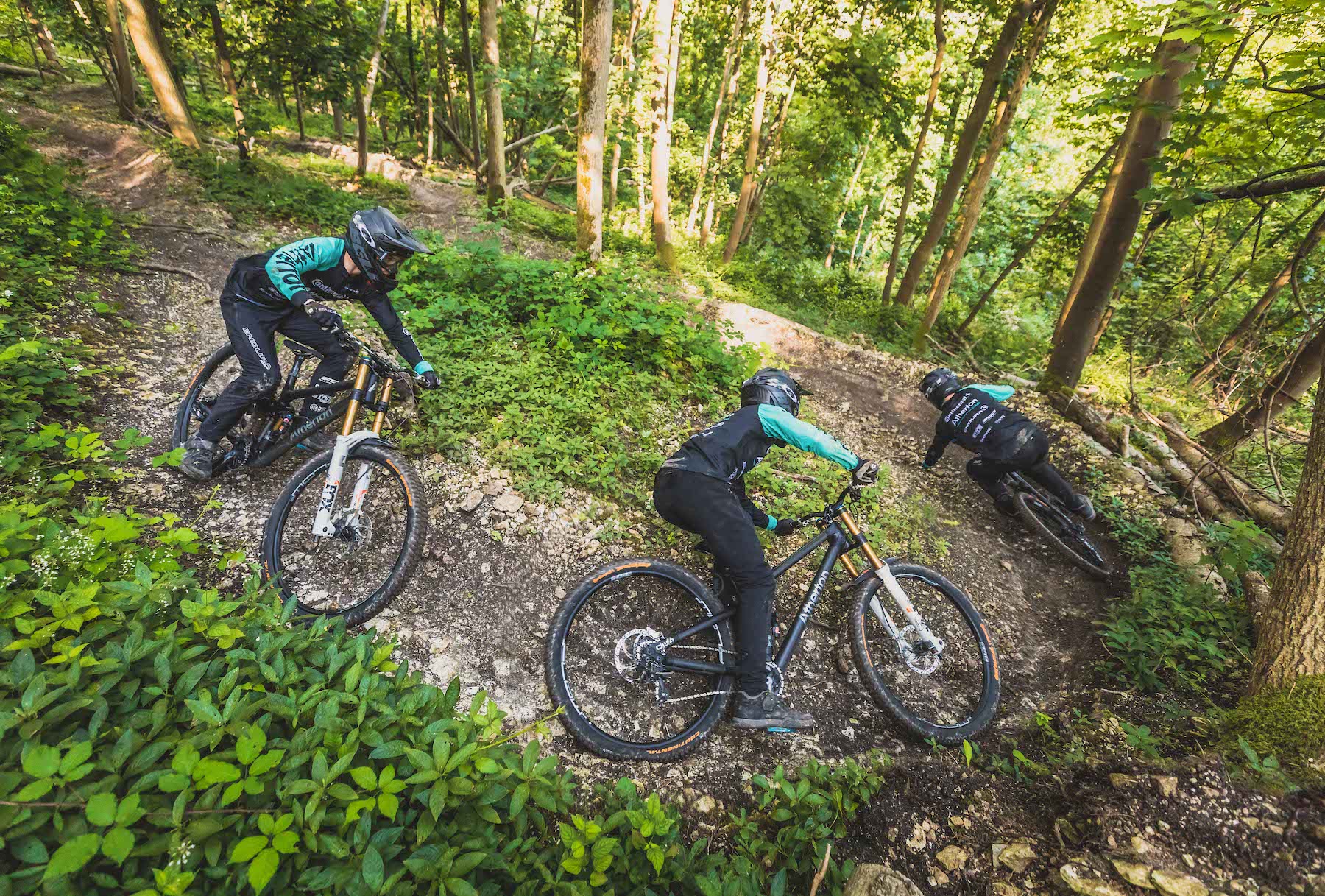 I've always ridden Nukeproof and they don't have the floating linkage that the Atherton Bike does, it feels so composed under braking – I'm not fighting to control it. The geometry is pretty different too, my old bike made me feel like I had to be more aggressive now I feel like I'm riding in a more natural, relaxed position. Over square-edged ruts and braking bumps and roots it's hard for the rear end to break loose, it feels really planted, under braking the bike stays really controlled.
The combination of amazing Trickstuff brakes and a rear end with exactly the right amount of compliance means that the stopping distance is so much smaller and I'm braking so much later. I feel like I can really push on so my progression as a rider and a racer has accelerated too. No excuses now.